What People are Saying About Zaphara
I just wanted to tell you how much your classes have meant to me the last few months. I was getting very isolated and depressed and since I started taking your class I've felt so much happier! I love the camaraderie plus your and your kitty are so delightful!
I'm really looking forward to being able to take your classes in person and learn more dance moves.
I hope this new year brings you health, happiness, prosperity and lots of love!
Catherine D. December 25, 2020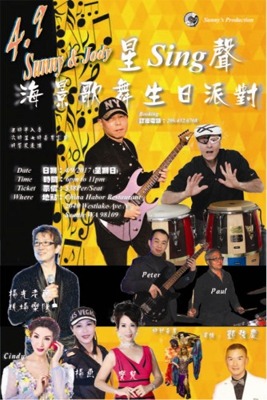 Big Birthday Bash
Sunny and Jody with their band at China Harbor Ballroom hundred plus guests, Zaphara performed with her wonderful dancers, Zena & Mimi, and made our party that much greater !
I even had the privilege playing drums to a solo performance with Zaphara dancing while playing her amazing finger cymbals.
Zaphara's belly dancing show was great, our guests had lots of fun, Zaphara and her dancers "Rock"!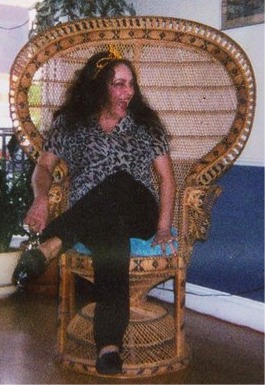 Zaphara:
You rock. Dance news, political commentary, help to friends and a pie recipe, too. What a great newsletter.

Sincerely,
Carol Simpson (Thriya) 5/2017
May 4, 2008 - Zaphara is "Roasted" by her closest friends,
fans & fellow dancers, at the "Roast & Toast" celebration.
---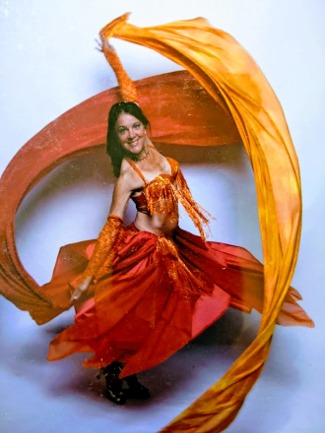 I had some of the best moments of my life as bellydancer!
If you want a wonderful instructor look up Zaphara Delmarter.
She is a Seattle icon and one of the best teachers ever. Zaphara is amazing. Please, do yourself a favor and look her up. She is widely known and admired for her stunning and polished performances.
She is a patient instructor and provides opportunities to dance. This is a must when you commit to bellydance.
Zaphara is a seasoned performer and an incredible teacher.
Dina Kraft, October 2022
---
Zaphara, you keep getting better and better at what you do. When you came to my brothers party no one knew what to expect, but I did! I knew what to expect because you were absolutely amazing at my Princess party a few years ago.
When you showed up to my brothers birthday party in April everyone was so entertained. I actually got word that you danced at my uncles bachelor party, and did an amazing job there too! Everyone keeps asking for your information so they can book you for their future events.
You are soooooooooo talented and I cant wait to see you dance again.

Aleteena R. August 2019
---
It's all Greek To Me! Workshop with Zaphara
February 23, 2013
Normandy Park Recreation Center
I had the joy and pleasure of taking a workshop for the first time from Zaphara. And I had a lot of fun.
Zaphara is such a unique instructor with years of knowledge, skill, and funny stories about dancing.
This workshop spent a lot of time working with Zills and how to use them while dancing—more importantly, when not to use them, and what beats to accent with various rhythms in dance.
By the time I had completed the workshop, they felt like a part of my body and dance. A wonderful discovery. Thank you Zaphara. Linda Joyce Minor, "Habibi Nile Dancers of Kirkland".
- Linda Joyce Minor
Fiber Artist and BellyDancer
As a recent attendee of Zaphara's workshop, 'It's all Greek to Me!' it was great fun and highly informative. The zills exercises were great and she took great care to check with everybody to see that they were on target, the Greek line dances were also fun and Zaphara is a wellspring of information on the art of Belly Dance! The workshop was a good fit for both experienced or dancers new to Greek traditions.
- Charlette
---
Dec. 12. 2012
Dear Zaphara,
Your newsletters are really full of NEWS! Besides that, they are entertaining and thought provoking.
Thanks for keeping me on your list.
Best wishes for a Merry Christmas!
Kit Tomczak
---
Hi Zaphara,
I really enjoy reading your newsletter. It's sometimes like a travelogue, epicurean magazine, and all around news of the day journal. Fun read.
---- Gordon Umino, September, 2014
---
Zaphara,
Thank you so much for making our party so much fun! You were a complete surprise to the birthday girl. Everyone loved your performance. Then there was the teaching us to belly dance part. We all felt we really learned things and got quite a good workout.
We all agreed we had an even better appreciation for what you did as a dancer after we tried to do it ourselves. You are a great teacher as well!
Thank you for a memorable evening.
Debbie Daniels, MSW, Nov. 2011
Leadership Coach and Consultant
206 / 930 – 8930
http://www.lifeactioncoaching.com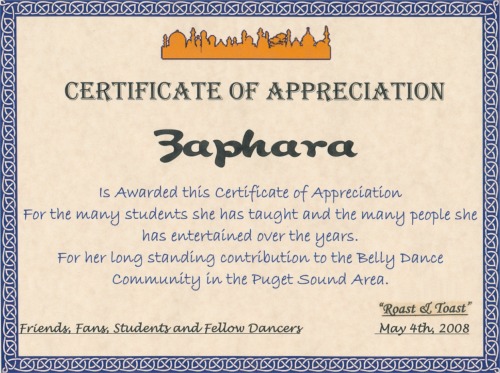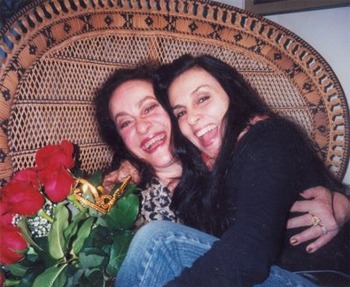 Bessma & Zaphara at the "Roast & Toast"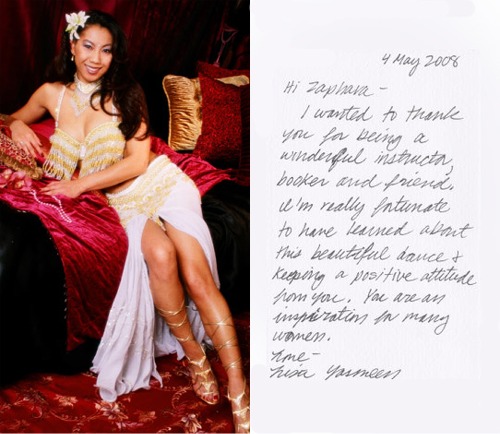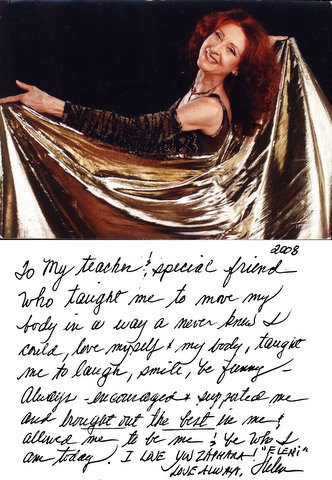 Sohaila, San Diego, CA,
presents Zaphara with the Certificate of Appreciation for outstanding contribution to Middle Eastern Dance & Culture
(shown below).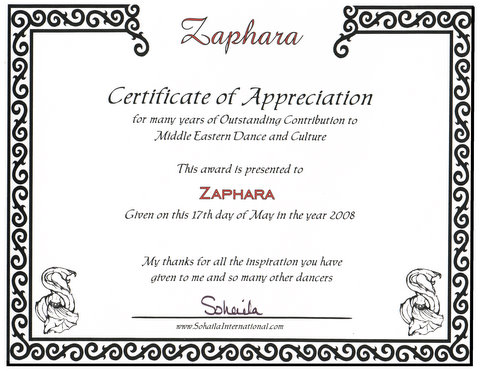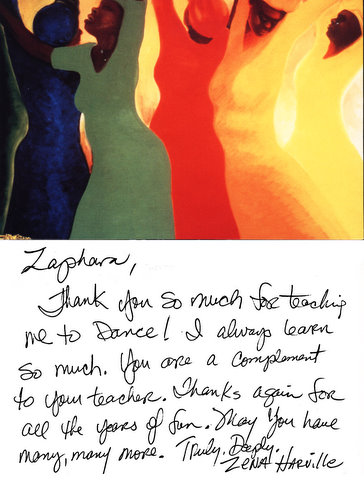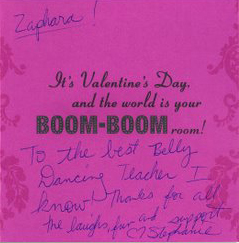 Hi Zaphara How are you?
I hope that you are doing well, it was an honor
working with you and you are a great dancer.
Take care & best wishes.
Anton Issa ( Northside Grill, 10-08) Tabla player